We're Getting Mutants in the MCU - The Loop
Play Sound
Bastian Balthazar Bux is the main protagonist in Michael Ende's novel The Neverending Story.
Novel
[
]
Bastian is a shy and bookish boy around 12 years old who is neglected by his father, who is still mourning the sudden death of his wife (she died of an unspecified illness). Bastian is a dreamer, who is shunned by other children due to his immense imagination. During a visit to an antique bookstore, he steals a curious-looking book titled The Neverending Story, and upon reading it he finds himself literally drawn into the story.
Halfway through the book, Bastian becomes a character in The Neverending Story, in a world called Fantastica ("Fantasia" in the films, which is closer to the German original "Phantásien"). He is bestowed the magical amulet AURYN, which allows his wishes to be granted. As the story progresses, Bastian slowly loses his memories of the real world as his wishes carry him throughout Fantastica and change him into a completely different person. Deluded by the witch Xayide, Bastian moves to the Ivory Tower and tries to have himself proclaimed Emperor. The ceremony is interrupted by Atreyu, who is nearly killed by Bastian.
Eventually, Bastian realizes that he is beginning to lose himself, and starts a desperate last-ditch quest for his one true desire. In the end he forgets even his name, but with the help of Falkor and Atreyu, who promise to finish the stories he started, he manages to return to the human world with the capability of loving, which was his deepest (and thereto unknown) desire, and bringing to his father the Water of Life, curing him of his melancholy. Bastian and Coriander exchange tales of their adventures in Fantastica, and Coreander reveals that a person can return to Fantastica as many times as they can think of new names for the benevolent Childlike Empress, and predicts Bastian will show others the way to Fantastica.
Films
[
]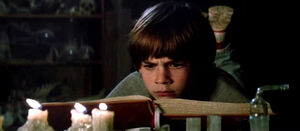 In the first film, Bastian is portrayed by Barret Oliver.
Bastian is a 10-year-old boy who lives in the city of De Forest, Washington. He lives a dreary life being tormented by school bullies.
On one such occasion he escapes into a book shop where the old proprieter reveals an ancient story-book to him, which he is warned can be dangerous. Shortly after, he "borrows" the book and begins to read it in the school attic where he is drawn into the mythical land of Fantasia, which desperately needs a hero to save it from destruction.
In the second film, Bastian is portrayed by J. Michael Haney, Jr. in flashbacks and Jonathan Brandis in the current events.
In the third film, Bastian is portrayed by Jason James Richter.
In the animated TV series, Bastian is voiced by Christopher Bell.
In Tales from the Neverending Story, Bastian is portrayed by Mark Rendall.
Physical description
[
]
Novel
[
]
In the novel, Bastian is portrayed as overweight with glasses; he does not carry this trait in the film series, instead being a small and slim boy with no glasses.
The NeverEnding Story (1984)

[

]
In the first film, Bastian has dark brown hair in a bowl-cut, and dark brown eyes.
He wears a dark blue hoodie, a grey sweatshirt with a red collar, blue jeans, and light grey sneakers.
The NeverEnding Story II: The Next Chapter (1990)

[

]
In the second film, Bastian has short dark blonde hair and blue eyes.
He wears a light grey hoodie, a baby-blue t-shirt, black jeans, and white high-tops.
When Bastian goes to K. Koreander's Antique Bookstore, he wears the same outfit, but with the addition of a light blue puffer vest.
The NeverEnding Story III: Escape from Fantasia (1994)

[

]
In the third film, Bastian has dark blonde hair and blue eyes.
He wears a blue denim jacket, a white polo shirt (in the first half of the film), a grey-and-dark-pink-striped t-shirt (in the second half of the film), grey jeans, and black converse sneakers.
Trivia
[
]